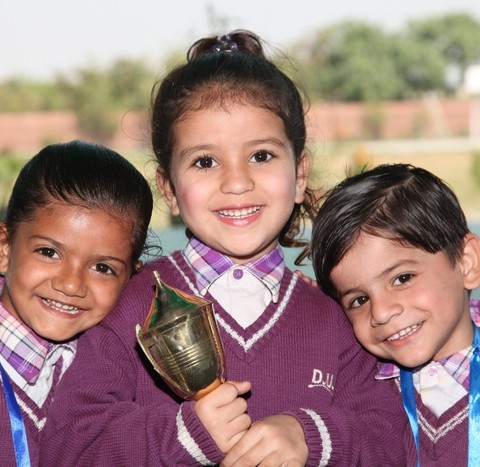 A unique, accessible, informative & enjoyable curriculum has been designed for the development of important skills and a good knowledge base for students. All the latest international guidelines are also considered while preparing it.
Creativity Based Approach Based Approach
In the curriculum and teaching methodology, we encourage the children to extend their range of learning from classrooms to activity centre with the use of CDs, Hardware, Software and Games sourced from different parts of the world. There is a balanced between free play and guided activity for the development of cognitive skills as well as motor skills.
English Conversation
Our emphasis is laid on the English conversation and the curriculum is made in such a way that it gives ample opportunities to children to practice speaking and listening English and thereby extending their range of vocabulary and communication skills.
Academic Session and Syllabus
The academic session extends from April to March/ the school follows the syllabus laid down by C.B.S.E.
We at Das Universal Academy, allow your tiny-tots to explore the world and become an intellectually stimulated and emotionally strong child through programs that are structured to facilitate self learning.
Special features;
· Play way methods
· Child-friendly atmosphere
· Beautiful theme-based class rooms
· Latest teaching equipment
· Toys and games
· Competent and caring child care personnel
· Selected educational TV and video programs
· Interactive sessions with parents
· Effective counselling with parents for various problems faced by tiny-tots
· Clean and hygienic sanitary facilities
 while we cannot replace the role of the parent, we believe in close parent/teacher co-operation directed in developing high moral and spiritual values in their children.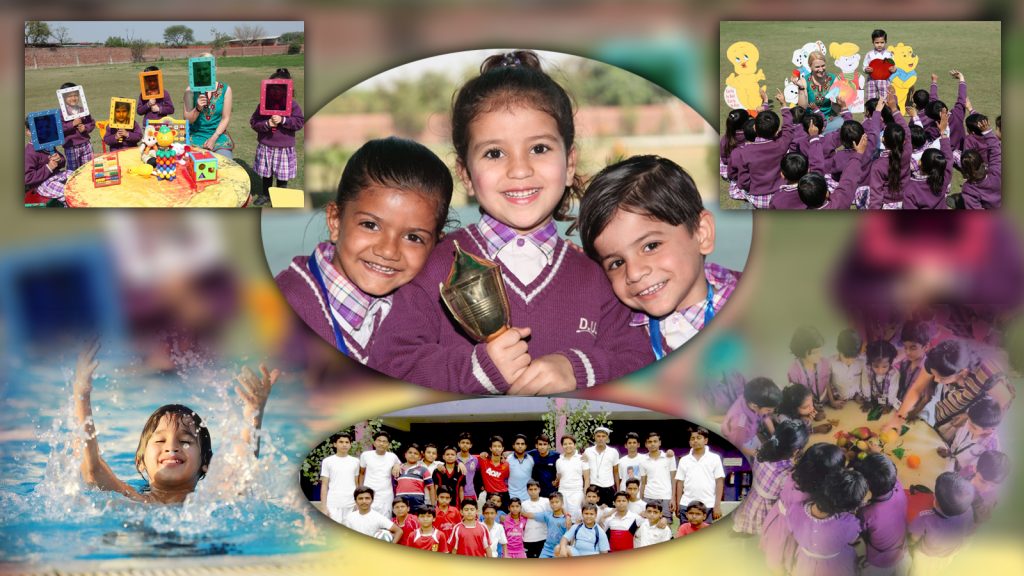 Hobby Clubs. Literacy Club, Debates, Seminars, Group Discussions, Art and Painting Club, Creative Writing, Music Club, Dance Club- western & Classical. Gardening, Etiquette- Training classes
Sports
The school gives ample opportunity to shine in sports and games, like
 Yoga & meditation, Tae-Kwon-Do, Skating, Basketball, Volley Ball
Hand Ball, Badminton, Cricket, Horse Riding, Tennis
Various inter- house and intra house competitions will be organized in the school. The basic motive behind participation in sports is to develop a sound and fit body and sportsmanship spirit.Winning is by no means the only method of judging achievement.
Go-curricular activities
Various co- curricular activities take place throughout the year enabling children to exhibit their inner talent and creativity, such as Debates, Elocution, Collage making, Computer painting,Fancy dress, Exhibitions,Folk, classical and ball room dance
The motive is to create a healthy spirit of competition among the students
Various workshops will also be organised by psychologists and counsellors to offer effective advice and suggestions to parents regarding various problems faced by the students.
Excursions and celebrations
Fun learning picnics, outdoor excursions and sight seeing tours are frequently arranged to places of interest in and around Delhi for easy learning and exploring new things.
INFRASTRUCTURE
Nearly 2.5 acres of land is being provided for work and play • Ultra modern infrastructure with properly lighted and airy rooms • Spacious playgroup, sports courts with lush-green surroundings. • Specific library • Well-equipped laboratories • Hobby clubs • Generator, invertors, back-up facilities Our school is in the process of making a well furnished library under the charge of a well- qualified librarian. Library periods are provided to all the classes in which they visit the library. The reading material comprises of a wide range of subjects such as; 1. Religion 2. cookery 3. Astronomy 4. Earth sciences 5. Fiction 6. Encyclopaedias 7. Past time stories 8. Illustrated Picture books & magazines 9. Educational Cd's 10. Periodicals and leading dallies, etc. Students will also be able to issue the books to study them at home.
© 2021 All Rights Reserved.